Hurricane Jeanne 2004
We want to thank you for AGAIN your prayers. Our lab was again unaffected by this hurricane. Our home was again left with out power but our lab was open for normal operation before 8:00 AM on Monday Sept 27th.
Here are a few items for those tracking the storm by request of many.
To Download a Street Atlas File for your computer click here.
First here is an image put up by SFWMD that shows the most current proposed tracks through FL:
and also this image may be quite helpful for a closer view:
Also here is an image that a good friend of mine is working on to give you an idea of the path with a little more detail as well as winds.
To see the current satellite images use the links below:
IR one can be seen at night but this may take a few minutes to open on dial up.
The image below shows the path of the hurricanes that have attacked the state of Florida in 2004. The Blue Line is Charley from Labor Day Weekend, the Red Line is Frances that hit September 4th to the 6th in the peninsula. The Black is Ivan which at the time of writing this is still to the south of the image. If you wish to see a larger image please click on the photo.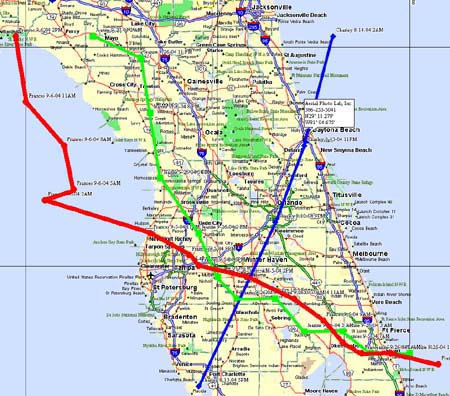 To go to APL weather page see the link to the left.
God Bless,
Kevin