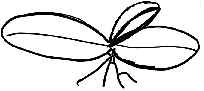 Vandeae/Phalaenopsis, Doritis & Similar
These include , and similar.
This type of orchid likes filtered light.
We keep our Phalaenopsis orchids over 55 degrees and high's below the mid 90's. We have had great success in my small greenhouse getting these plants to bloom often. People have great success with these in screen pool enclosures, greenhouses and hanging in branches under trees. In outdoor situations grow the plant in a pot tipped on it side enough so that the water will not rest in the crown (top of the plant), see below.
Watering should be done often enough to not allow the plant to completely dry out but also not to stay soaked. Do not keep a water tray under the plant with the pot in the water. If you use a water tray then you will want to place small stones in the tray to raise the pot out of the water. This will allow the humidity from the tray to raise up but will not cause the plant to rot. Use fertilizer about 1 time per week at 1/2 recommended and add a tablespoon per gallon of NON BLEACH TYPE liquid laundry soap. We normally only use a 20-20-20 mix. If you use a bloom booster do not use more then once a month at the same 1/2 strength.
Phal's also get Keiki's that grow normally on the spikes. These Keiki's can also be removed when the roots are about 3 or 4 inches long but more care is needed so that you do not damage the parent plant. As with all orchids make sure you sterilize the cutting tool in a flame prior to use.

This image shows good root growth.
| | |
| --- | --- |
| | This shows the starts of a flower spike. |
| | When you remove an old spike from a Phalaenopsis you want to cut it as close to the base of the plant as possible with a sterile object. Be careful not to burn the base of the plant or cut the plant. ONLY CUT THE SPIKE! We recommend that you leave the spike until the spike is dry or about 3 to 4 months before it bloomed the prior year. That way you will have fuller flowers. |
| You can see on the right that this is a fairly large Phalaenopsis in a small pot. Actually it is a 2.5 inch pot. Phal's like to be pot bound in order to bloom. If you keep repotting to fit the plant you will find that the plant will not bloom. There is little media left in this pot, it is nearly all roots. If you look carefully at most of the plants you see at the local hardware stores you will find that they are "freshly potted" plants. In other words they have removed them in spike from a seedling pot and pot it in a larger pot to sell it for more money. | |
| | This photo shows how to grow a Phal orchid outdoors. You want to tip the pot on it's side in order to allow the water to run off the crown. Water left in the crown can cause rot of your orchid. |