Orchid Flasking
We are currently placing our flasking service on HOLD due to the amount of photography work we have been doing with our main business. We will post some names and contact to get hold of for providing you this service in the near future.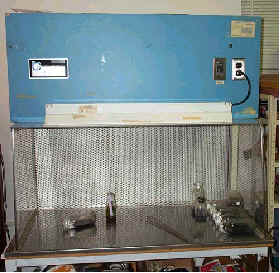 We are now ready to offer flasking services to our ability to help you in your love of orchids. If you do not know how to pollinate an orchids flower see the POLLINATION link to your left under Orchid Care. For a listing of the time a seed pod will take to germinate see our page on ORCHID SEED.
Please read the IMPORTANT INFO ABOUT FLASKING below the chart. We are offering our flasking services at the following costs:
SEE NOTE ABOVE!
Large Flask per cross sent

Quantity

Green Pod Price

Dry Seed Price

1st Flask

Each

$12.00

$16.00

Each Add'l Flask of Above

2nd to 5th

$10.00

$12.00

Each Add'l Flask of Above

6th to 10th

$8.00

$10.00

Flask & Stopper Deposit due prior to shipping

Each

$8.00

$8.00

Volusia County Orchid Society Members Only-

If you have seed to be flasked you will get the second flask on ONE order free. Each flasking done after that will be charged normally. This is an arrangement regarding the donation from Green Thumb Flasking Services.

2nd flask

$0.00

$0.00
IMPORTANT INFO ABOUT FLASKING!
We are currently only offering the service to the 48 US states. In the future we will offer flasking to overseas clients utilizing what is commonly referred to as "Tube Flasks". Our concept on flasking is basic and simple. We make the flasks ahead of time (about a week) and let them rest to make sure the flasks are sterile. Then we flask seed lightly in order to only have to flask one time. Every time a flask is opened the risk of contamination is increased therefore we do not wish to open a flask any more often then is required.
| | |
| --- | --- |
| | This is a photo of a seed pod. It is a Cattleya hybrid so it will be many months until this is ready for just the flasking stage. Your tag and the names of the plants you have used to make the cross are the most important thing to keep track of. When you name your plants the pod parent is listed first then the pollen parent. |
Your seed:

We will create an account file for storing the remainder of your seed by the number provided as dry seed. In the event that any problems with your flask or future request of flasking for you or your company. Our policy is that the seed is yours (your companies) and if you would desire to store the seed we will return it to you. Please note your request on the FLASKING ORDER FORM. If you prefer not to provide us with the names of your cross please provide a code number that you will be using for your flasks with us. We do however request the genera of your seed.

Payments:

The first flask fee and 50% of the fee for the total number of flasks you wish to obtain must be sent with the seed. The payment is non-refundable and can be in the form of Check, Money Order, or notification from PayPal.com of the total amount. If you send dry seed we will inspect it prior to flasking. If the seed contains no embryos the seed and your payment will be returned with a $3.00 handling invoice and no flasks will be made. All attempts are made to create a good and healthy flasks of orchids for your enjoyment or business. In the event that your flasks molds or no growth is seen you will be notified and no further fees would be due. If your flask continues to grow and becomes ready for shipping we will notify you by e-mail (or regular mail) of that fact. The remaining 50% of the additional flasks, shipping fees and the flask deposit will be due prior to the shipment of your flasks. The flask deposit will be returned upon receipt of an unbroken flask and stopper at our facility.

Damages:

If your flask arrives broken please notify us immediately and send us a digital photo of the damaged glassware. We will contact the shipping company in order to make a claim to obtain the funds for the flask deposit and you will not be held responsible for the damaged glassware but we would request the rubber stopper be returned. The likelihood is that when your flasks arrive (even if damaged) you can pot up right away and have no actual plant loss. Discover Orchids can not be liable for damage of flask by natural or un-natural disaster such as hurricane, fire, etc. As a small business we will take all precautions to maintain a safe location for your flasks. We will be looking into insurance policies that would be able to cover the value of a flask for the limit of what you paid to us.

CONTACT US FOR FLASKING:

Thank you,

Kevin Johnson

Discover Orchids

If you would like to try flasking yourself read on!

We have left this section even with our updates so that you can learn of how we came to do orchids flasking the way we do and what it takes to do it at your home.

I began my life with orchids in about 1978. I had wanted to try to flask my own orchids but never really spent the time looking into how to do it. I had made several crosses and until now had left the seed to go to waste. I never had the time to find a place and send them off for someone to flask them for me.

Discover Orchids now has a CAS (Clean Air Station) which yields far higher success. The CAS makes flasking much easier, but flasking can be done in a bathroom, kitchen and so on. I strongly recommend that you try it. At least create a cross and see how the seed pod forms and develops. When the pod is ripe it will burst open. The trick is to catch the pod before it does. As soon as it begins to open the seed will have to be sterilized. If you do not wish to flask your orchids you can try the method that was used before flasking was ever done. You spread the seed in the pot of the pod parent and you usually get a few plants to grow. The yield will not be as high as flasking but it is fun regardless to see the growth. If the seed busts open in your greenhouse you will find baby orchids growing in the weirdest places and you may never know what you actually have. To see how to pollinate an orchid see POLLINATION and also look at the FLASK links at the PLANT & BLOOM LIST.

I am using the term BABIES due to having babies, it has yielded many, many, many baby food jars. These jars were my flask, and it worked. You will need the media, flask (baby food jars), sterile cotton pads, tape, and aluminum foil. I also found that it helps to have a pressure cooker and Copper Fungus liquid. You will also want a covered area that you have gotten sterile and something to sterilize the seed. Most important do not forget the seed!

I cook the media a day before and letting it cool overnight. The next day I again sterilize my area and the seed and then place the seed in the media. Cover with the lid and cotton pad, cover with foil, tape the foil on and write the cross on the tape. You have a flask! Yep that is it! Are you surprised? I know I was, and when I saw the plants growing, I was very happy, it worked!

Check out Vengerís Orchids and Green Thumb Flasking Services to find the media and some good info for trying to flask. The AOS is another place to go as well as many others.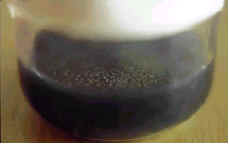 This is my first semi-successful flask. The above is the starts of Epidendrum conopseum. The little bumps are VERY small plants. Yes if it looks familiar, it is a baby food jar! I lost them after they were 1/8th inch tall and more then two months old. Using a CAS has raised our success rate to a very high level. We now are preparing to offer our flasking services to others.