Popcorn Studios
Photographer: Michael Kevin Johnson
Welcome to PopcornStudios.net. This website contains some of the photographic images by Michael Kevin Johnson. The nickname Popcorn was given to Mr. Johnson while in Junior High School from the title of a fiddle instrumental. From that time one the title Popcorn Studios was used in reference to his photography. Mr. Johnson began taking pictures in a large scale at the end of his elementary school years. He began with a Kodak 126 camera and then to a Pentax K-1000, later obtained a second K-1000. Then the addition of the Newest and greatest digital camera (at least it was then) a Kodak DC5000. More recently a mixture of a couple Digital Minoltas and 4 Hasselblad cameras and a 5 inch aerial camera. The latest addition to Mr. Johnson's photographic equipment is a Kodak P880 digital camera. At times he wishes the lab was slower so he could spend more time taking photographs. Though Aerial Lab work is his primary business he has obtained studio equipment to do inside and outside photography. To see more photography taken my M. Kevin Johnson click here.
I also thought I would place a couple of our color infrared tests frames on this site. You will see the below images in "color infrared" with different processing methods as well as some comparisons for you to review. For more on some reviews of B&W and Color Infrared Films click the below links:
Film Comparisons (B&W, B&W IR and Color IR)
This image is a shot taken of a small tree (all young new growth showing pinker) along with trees in the background that are older (thus the darker red color). There is an algae growth of sorts on the wood fence thus you see a bit of coloration in the fence. Notice too the shingles on the home that are very blue. This is a lack of chlorophyll (in other words it is dead).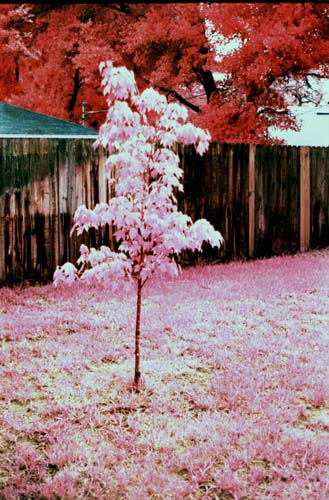 These images are a comparison of a natural color image with one taken with color infrared film processed to a negative with APL, Inc.'s special set up for this method.
| | |
| --- | --- |
| | Color Infrared |
| | Same Flower (prior blooming) in natural color |